Why Your Bones Matter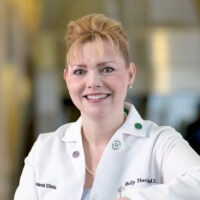 By: Kristi Tough DeSapri, MD • Holly L. Thacker, MD • Posted on May 01, 2019 • Updated April 22, 2020
---
Every year, the month of May highlights three important events:
The kick-off of summer - and sunnier days ahead!
Mother's Day - the celebration of hard-working mothers!
Osteoporosis Awareness Month - this third event sometimes goes unrecognized with all the hustle and bustle of life.
Osteoporosis Awareness
Osteoporosis is a weakening of the bone mineral density that predisposes women (and men) to break bones.
Unfortunately, many postmenopausal women overlook their skeletal health. However, our bones and muscle keep us going, so we can live our best lives and stay healthy and active.
More of my patients are aware that heart disease is the number 1 killer of women. Women are correct in wanting to know their blood pressure and cholesterol (lipid) values. These important numbers help determine the risk of untoward cardiovascular events such as stroke or heart attack. However, bone health deserves the same dedicated attention and evaluation. In fact, there are more osteoporosis related fractures each year than the number of breast cancers, strokes and heart attacks combined!
DXA Screening Test Helps Determine Risk of Fracture
There is a simple screening test called a DXA (Dual Energy X-Ray Absorptiometry) to help determine your bone strength and risk of fracture.
This scan takes 10 minutes and is done in a hospital or doctor's office.
The important numbers generated from a DXA are a T-score which informs how your bone density deviates from a normal bone density at peak bone mass.
A Z-score tells you how much your bone mineral density deviates from women of your same age, sex and ethnicity.
Women with T-scores at the hip, femoral neck or spine which are lower than -2.5 have osteoporosis or bones weak enough to fracture with minimal trauma such as lifting or twisting in some cases.
There is one more way to diagnose osteoporosis which is often overlooked. Women who have sustained a fracture from a standing height or less, or from minimal trauma such as a fall also have osteoporosis. These so called "fragility fractures" are a signal your bone quality and density needs attention. Be sure to tell a health care professional your complete medical history including any falls or remote fractures.
Osteoporosis Related Fractures: What To Watch For
Most osteoporosis related fractures occur in the spine or vertebral. Two thirds of these go unrecognized and are disguised as back pain or height loss. The next time you're at the doctor's office ask to get your height measured on a wall-mounted stadiometer. Your physician should check for spine fractures with a simple spine X-ray or VFA (Vertebral Fracture Assessment) scan (done at the same time of your DXA), if you have significant height loss.
Significant height loss of more than 0.8 inch (2 cm) from your last height check
More than 2 inches (4 cm) of height loss since your adult peak (no cheating!)
Timely detection of these fractures is important, so physicians can intervene to evaluate bone density, treat underlying osteoporosis and prevent future fractures. Studies show that after a first fracture, the risk of a second fracture is five times higher in the following 1-2 years. This statistic motivates (or should motivate) women and their health care providers to seek evaluation and treatment soon after a fracture or a new diagnosis of osteoporosis.
Age and Osteoporosis
Most women after the age of 50 get mammograms as up to 1 in 8 women develop breast cancer during their lifetime. Equally important, 1 in 2 women over age 50 will sustain an osteoporosis related fracture in their lifetime. We need to screen and treat both these conditions with the same fervor. With women living longer into our 8th and 9th decades of life, the goal of osteoporosis treatment and fracture prevention is to live more pain free and independent lives.
Unfortunately, the national statistics of hip fracture rates and the morbidity and mortality after these sentinel events are sobering. Rates of hip fracture were on the decline until a few years ago. With fears of osteoporosis medication and confusing messages about how to treat osteoporosis, the rates of deleterious hip and other fractures have plateaued. Despite this, every year we have more treatments and new knowledge about bone health. This research is inline with a growing need to treat women with osteoporosis and a high risk for fracture or post fracture more effectively and safely.
What Can You Do To Prevent Bone Breakage And Height Loss?
Many women turn to the following to help prevent future bone breakage:
Diet
Supplements
All three of these interventions are important. Both calcium and vitamin D are the building blocks for laying down new bone. It's important to be aware that no amount of these supplements will completely reverse bone loss that has occurred, and cannot be used alone to treat osteopenia (low bone mass) or osteoporosis.
Exercise also plays a role in strengthening bone and helping build new bone (particularly at the hip). Weight bearing exercise (either low or high impact) and muscle strengthening exercise (including balance and posture training) are both effective to support bone and reduce risk of falls. Similar to the story with supplements, no amount of exercise will reverse bone loss associated with osteoporosis. But exercise will help stave off bone loss and can help reduce risk of fractures and falls.
Osteoporosis Treatment Options
In my practice, I like to empower women with scientific evidence-based therapies and give them choices that include lifestyle and FDA approved medication options. Some medications are for prevention of osteoporosis and some are for treatment of established osteoporosis or severe osteoporosis (fragility fracture and low bone density). The following are options in the preventive realm and may also reduce breast cancer risk:
If oral medications don't suit your lifestyle or you've experienced stomach upset, there are the following that can improve bone density and reduce fractures:
Intravenous (IV)
Subcutaneous (SQ) injections
Even hormone therapy by patch, including Menostar® estradiol patch or tablet
Adherence, defined as taking a medication and persistence, taking a medication for the proposed period of time are both important in osteoporosis management. That's why it's crucial to be informed and individualize your treatment plan with your health care professional or bone specialist.
Recent Updates in the Field of Osteoporosis
Newer Anabolic Bone building Therapies and Subcutaneous Anti-Resportive Therapies
There are now two treatments that increase bone mass and build new bone. Abaloparatide (Tymlos®) is delivered via small daily injection at night for 18-24 months and then may be followed with weekly oral alendronate for up to 2 years after. In the women who completed the trial the rate of spine fracture was reduced by 84% and the rate of all other non-spine fractures (such as wrist, ankle, hip) fractures was reduced by 39%. Tymlos® is the most effective medication at reducing spine fractures. Tymlos® does not need to be refrigerated whereas daily Forteo®/teriparatide does need to be refrigerated and was our first anabolic bone building therapy. Both are daily injectable bone builders, but cannot be used in persons with Paget's disease or those who have received radiation (like breast cancer survivors).
Another landmark study this year in thousands of older postmenopausal women with osteopenia (low bone mass with T-scores -1.1 to -2.4) proved that an intravenous (IV) Reclast® or Zometa®/Zoledronate (a bisphosphonate) given every 18 months not only prevented osteoporosis, but also decreased risk of spine and other fractures at other sites (wrist, ankle). Women with breast cancer who receive IV Zoledronate have reduced overall death rates. This adds to existing studies on the safety and efficacy of treating older women with osteopenia to decrease their fracture risk to keep them out of hospitals and nursing homes.
Denusomab (Prolia®) is a medication that prevents ongoing bone loss and is considered an antiresorptive agent. This class of medications are well studied and commonly recommended as first line to prevent fractures. Denusomab has been studied in thousands of patients for 10 years and shows continued bone mineral density gains and low rates of new spine and non-spine fractures. It is generally covered in patients who have Part A and Part B of Medicare and has to be injected by a health care provider (usually a nurse) every 6 months.
Very recently the FDA has approved Romosozumab® (EVENITY®), which has a unique dual effect on bone to increase new bone formation and prevent bone breakdown. It was studied in more than 11,000 women and will be delivered via subcutaneous injection EVERY MONTH for one year to treat postmenopausal women with osteoporosis and fractures. Romosozumab® will be available in the summer of 2019. Persons needing anabolic therapy who have already received 24 months of Forteo® or Tymlos ® may consider this as well as women with radiation history who need an anabolic who cannot use Forteo® or Tymlos®. Persons who have had a heart attack or stroke in the last year may want to avoid EVENITY® as there was a possible cardiac signal noted in studies.
Osteoporosis Medication Risks: The Facts
All of the osteoporosis medications are heavily scrutinized prior to FDA approval and thereafter, with ongoing safety studies. I feel very confident in discussing these results with women who are concerned with the very rare adverse events that cause them to fear treatment and therefore sustain unwanted fractures or live in fear of fractures. These rare events have gained much media attention, two that are often highlighted are:
ONJ (Osteonecrosis Of The Jaw) is a non-healing infection of the jaw bone. This occurs in 1-2 persons per 100,000 in baseline population and 2-4/100,000 in persons on osteoporosis therapies.
Atypical Femoral Fractures (AFF) are stress fractures which occur in the thigh bone.
ONJ can be treated with antibiotics and periodontal surgery, while AFF are treated with orthopedic surgery or may heal on their own. Additionally, timing and duration of osteoporosis therapy can reduce the risk of these rare events. To put the risk in perspective for bisphosphonates (alendronate/Fosamax®, risedronate/Actonel® or Atelvia®, zolendronate/Reclast®) treating 1,000 women with osteoporosis will prevent 100 fractures. While less than one woman will sustain an AFF. Recall the risk of a fracture in women over age 50 is 50%.
Even my 5 year old son who is learning basic math can understand that the risk of an osteoporotic fracture is exponentially higher than the risk of a very rare adverse event.
During May and this celebration of mothers and bones, I urge you to educate yourselves or the women in your circle of friends, family or community about the importance of a bone health evaluation.
And if osteoporosis or a prior fracture is part of your medical history, please treat yourself to education and effective treatment to prevent fractures. As my three boys say, "Ladies first!"
We deserve to empower ourselves first so we can live longer and stronger and maintain an independent lifestyle.
Be Strong. Be Healthy. Be in Charge!
-Kristi Tough DeSapri, MD and Holly L. Thacker, MD

About Kristi Tough DeSapri, MD
Dr. Kristi Tough DeSapri is a board certified internist specializing in midlife women's health. After fellowship training at the Cleveland Clinic, she has worked in private practice and academic medicine for over 13 years, including being director of the Northwestern Women's Bone Health program at the Center for Sexual Medicine and Menopause at Northwestern Medicine in Chicago.

She is opening Bone and Body Women's Health, LCC a concierge midlife women's health practice in Winnetka, IL focused on consultation and management of perimenopause, menopause, osteoporosis, and sexual health. She is a national leader in the field of osteoporosis and menopause management. Follow Dr. DeSapri on Instagram @boneandbodywh.
---
---
osteoporosis, women's health, bone health, mother's day, osteoporosis awareness month, Tymlos, Forteo, Fosamax, Actonel, Reclast, Zometa, Prolia, Evista, EVENITY, Duavee
Related Articles
---