Menopause Increases a Woman's Risk of Heart Disease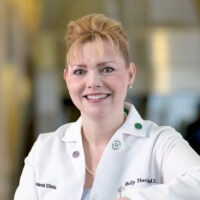 By: Holly L. Thacker, MD • Posted on December 04, 2020
---
Study Shows Menopause Transition Contributes to Increase in Cardiovascular Disease
Cardiovascular disease (CVD) is the leading cause of death in women and the risk of CVD increases after menopause. Researchers have studied the relationship between the menopause transition (MT) and CVD risk for 20 years, which led to the recent hypothesis that the MT contributes to the increase in coronary heart disease risk.
By following women over the period of 20 years, researchers were able to study chronological and ovarian aging and the connection to CVD risk. They found distinct patterns of sex hormone changes as well as weight gain, lipids and lipoproteins, and measures of vascular health during menopause increased a woman's risk of developing CVD postmenopausally. The significance of these findings is that it emphasizes the importance of monitoring women's health during midlife, a critical window for physicians to provide early intervention strategies to help reduce a woman's CVD risk.
Why is this study important for midlife women?
For many years, I have been lecturing, writing, teaching and sharing with my patients the fact that estrogen is a huge factor in the prevention in cardiovascular disease (CVD) in women. However, a small group of menopause leaders including myself have sadly known that our message about estrogen and the prevention of CVD would not be accepted until a major health organization recognized the importance of menopause and CVD. In the US, guidance from such an organization is apparently the single most important factor in achieving behavioral change among practicing physicians.
The menopause communities have been recommending all along to consider the health benefits of hormone therapy in women who are within the decade since menopause, or who have had early/premature menopause. The 2011 American Heart Association (AHA) guidelines for CVD prevention in women did not include any information about menopause being a CVD risk factor. Hopefully, this latest statement from the AHA will raise awareness of the significance of CVD risk during the MT and lead other clinicians to inquire about menopause with their patients during routine medical care.
What is the treatment for preventing CVD during menopause?
Hormone therapy
An important part of the study shows that there are RCT level data consistently supporting the use of hormone therapy to prevent all cause mortality and coronary events, which simply does not exist for the use of aspirin or cholesterol lowering medications for primary prevention. Unfortunately, the data for secondary prevention with statins is weak in women. Talk with your physician to see if hormone therapy is an option for you.
Lifestyle Interventions
To achieve ideal cardiovascular health, the AHA recommends the following lifestyle interventions (known as Life's Simple 7):
Evidence strongly supports the critical component of controlling these factors in reducing CVD burden in women.
As a women's health physician, I want my patients to feel they are getting the most reliable information as well as the best care possible. I encourage you to talk with your healthcare provider about everything that is on your mind, don't be afraid to ask all your questions, including those about menopause!
Be Strong, Be Healthy, Be in Charge!
-Holly L. Thacker, MD
Holly L. Thacker, MD, FACP is nationally known for her leadership in women's health. She is the founder of the Cleveland Clinic Women's Health Fellowship and is currently the Professor and Director of the Center for Specialized Women's Health at Cleveland Clinic and Lerner College of Medicine at Case Western Reserve University. Her special interests are menopause and related medical problems including osteoporosis, hormone therapy, breast cancer risk assessment, menstrual disorders, female sexual dysfunction and interdisciplinary women's health. Dr. Thacker is the Executive Director of Speaking of Women's Health and the author of The Cleveland Clinic Guide to Menopause.
---
---
Related Articles
---