Remember Bone Health During Osteoporosis Awareness Month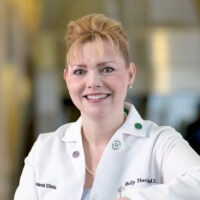 By: Kristi Tough DeSapri, MD • Holly L. Thacker, MD • Posted on April 23, 2020
---
Osteoporosis Awareness

May is Osteoporosis Awareness Month, however during this COVID-19 pandemic, most of us are focused on what we can do to keep ourselves, families and communities safe and healthy at this time. Living in a pandemic, our hospitals and minds are flooded with concerns over containing the virus. But we cannot forget to care for ourselves, particularly if you have medical conditions that require medication and ongoing surveillance.

For the 8 million women in the US and 54 million women globally living with osteoporosis, managing the disease cannot be forgotten. Many women with osteoporosis don't know they have it until they break a bone. We are working hard to reverse that trend. An osteoporosis diagnosis comes from one of the following:
DXA Bone density scan
History of a fragility fracture
A fall from a standing height or less
A low trauma bone breakage such as tripping over a rug, pet, laundry on the floor, ice or grass
DXA Screening Test Helps Determine Risk of Fracture
There is a simple screening test called a DXA (Dual Energy X-Ray Absorptiometry) to help determine your bone strength and your risk of fracture.
This scan takes 10 minutes and is done in a hospital or doctor's office.
The important numbers generated from a DXA are a T-score which informs how your bone density deviates from a normal bone density at peak bone mass.
A Z-score tells you how much your bone mineral density deviates from women of your same age, sex and ethnicity.
Women with T-scores at the hip, femoral neck or spine which are lower than -2.5 have osteoporosis or bones weak enough to fracture with minimal trauma such as lifting or twisting in some cases. Trabecular Bone Scoring (TBS) helps assess risk of fracture.
Osteoporosis Related Fractures: What To Watch For
Most osteoporosis related fractures occur in the spine (vertebral bones). Two thirds of these go unrecognized and are disguised as back pain or height loss. The next time you're at the doctor's office ask to get your height measured on a wall-mounted stadiometer. Your physician should check for spine fractures with a simple spine X-ray or Vertebral Fracture Assessment (VFA) scan (done at the same time of your DXA), if you have significant height loss.
What is significant height loss?
Significant height loss of more than 0.8 inch (2 cm) from your last height check
More than 2 inches (4 cm) of height loss since your adult peak (no cheating!)
Timely detection of these fractures is important, so physicians can intervene to evaluate bone density, treat underlying osteoporosis and prevent future fractures. Studies show that after a first fracture, the risk of a second fracture is five times higher in the following 1-2 years. This statistic motivates (or should motivate) women and their health care clinicians to seek evaluation and treatment soon after a fracture or a new diagnosis of osteoporosis.
What can you do to Prevent Bone Breakage and Height Loss?
Diet, supplements and exercise are important to help prevent future bone breakage. Both calcium and vitamin D are the building blocks for laying down new bone. These measures are necessary but NOT sufficient. It's important to be aware that no amount of these supplements will completely reverse bone loss that has occurred, and cannot be used alone to treat osteopenia (low bone mass) or osteoporosis.
Exercise also plays a role in strengthening bone and helping build new bone (particularly at the hip). Weight bearing exercise (either low or high impact) and muscle strengthening exercise (including balance and posture training) are both effective to support bone and reduce risk of falls. Similar to the story with supplements, no amount of exercise will reverse bone loss associated with osteoporosis. But exercise will help stave off bone loss and can help reduce risk of fractures and falls.

Getting Osteoporosis Medications During COVID-19
Currently, many routine health visits have been re-scheduled as telemedicine appointments to check in with your doctor. For patients with hypertension and diabetes, home blood pressure readings and glucose values can be shared electronically. Keeping adherent with your medication regimen is very important. Pharmacies are open and dispensing medication to stay on track, and some may offer delivery service.
For women on osteoporosis medications, particularly those anti-resorptive medications such as denusomab (Prolia®), keeping on track with twice yearly (every 6 month plus one day) injections is necessary. Discontinuation of denusomab has been associated with additional Multiple Vertebral Fractures (MVFs) as early as 7 months after missing a dose. Many spine fractures can be asymptomatic, but later cause spine deformity and height loss, while others cause pain. To help locate where Prolia® (denosumab) can be administered and which pharmacies carry it, visit Prolia Finder.

To stay on track with your medications, make sure to reach out to your clinician or bone health specialist if you have difficulty scheduling an injection or if the infusion center/facility you obtain the medication from is closed. In addition, women who are taking daily SQ abaloparatide (Tymlos®) or teriparatide (Forteo®) must ensure they have supplies for next month's medication and needles. Women receiving monthly Romosumaub (Evenity®) need to continue with the nurse administered injections for the entire year without interruption.

This is a time where we are focused on keep others healthy and safe by staying home to prevent the spread of COVID-19, but we also urge you to take of yourself and your bones. Especially those with osteoporosis who need injections or infusions (Zoledronic acid/Reclast®/Zometa) as these are NOT in the "elective" category,

Be Strong. Be Healthy. Be in Charge!
-Kristi Tough DeSapri, MD and Holly L. Thacker, MD

---
About Holly L. Thacker, MD

Holly L. Thacker, MD, FACP is nationally known for her leadership in women's health. She is the founder of the Cleveland Clinic Women's Health Fellowship and is currently the Professor and Director of the Center for Specialized Women's Health at Cleveland Clinic and Lerner College of Medicine at Case Western Reserve University. Dr. Thacker is also the Executive Director of Speaking of Women's Health and the author of The Cleveland Clinic Guide to Menopause. Her special interests and areas of research include menopause and related medical problems including osteoporosis, hormone therapy, breast cancer risk assessment, menstrual disorders, female sexual dysfunction and interdisciplinary women's health.

About Kristi Tough DeSapri, MD

Dr. Kristi Tough DeSapri is a board certified internist specializing in midlife women's health. After fellowship training at the Cleveland Clinic, she has worked in private practice and academic medicine for over 13 years, including being director of the Northwestern Women's Bone Health program at the Center for Sexual Medicine and Menopause at Northwestern Medicine in Chicago. She is opening Bone and Body Women's Health, LCC a concierge midlife women's health practice in Winnetka, IL focused on consultation and management of perimenopause, menopause, osteoporosis, and sexual health. She is a national leader in the field of osteoporosis and menopause management. Follow Dr. DeSapri on Instagram @boneandbodywh.
---
---
Related Articles
---