Why Autoimmune Diseases Affect Women More Than Men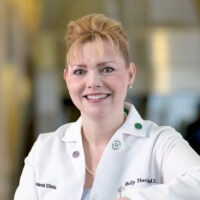 By: Holly L. Thacker, MD • Feyrouz Al-Ashkar, MD, FACR • Posted on August 01, 2019
---
There are several autoimmune conditions and many affect women more than men. At least 90% of people with Multiple Sclerosis (MS) are women. Systemic Lupus Erythematosis (SLE) and Rheumatoid Arthritis (RA) disproportionately affect females. This is because women have a stronger immune system than men, which is a double edged sword. Conversely, males are twice as likely to get infections and cancers than females, while women are several fold more likely to get autoimmune conditions.
Auto Immune Risks
Hashimoto's thyroiditis, which often leads to low thyroid, affects 1 in 8 women and runs in families. If you have one auto-immune condition, you may be at risk for others, including:
Pernicious anemia (low B12 requiring B12 shots)
Addison's disease (adrenal failure)
Type 1 Diabetes Mellitus
Women with Hashimoto's low thyroid and other autoimmune conditions may have reduced ovarian function and thus may be more likely to have earlier menopause and need menopausal hormone therapy. There are some 80 conditions linked to autoimmune conditions.
Estrogen May Help With Autoimmune Conditions
Women with autoimmune conditions may think that since many of these conditions are more common in women that they should avoid estrogen and that is not always the case. In fact, women with Rheumatoid Arthritis who also have high estrogen state like in pregnancy, may do better with estrogen than without estrogen. Women with Systemic Lupus Erythematosis (SLE) may use hormonal contraceptives and postmenopausal hormone therapy if their SLE is stable and doesn't involve kidney impairment and active blood clotting.
Things to Know
Know your family history as there is a genetic component in many conditions.
Your immune system is a hard worker and sometimes goes into overdrive and attacks normal tissues like skin, joints, thyroid and glands.
Some autoimmune conditions have similar symptoms.
Fatigue. Nonspecific but very common in several conditions
GI upset and sensitive bowels:

from celiac disease/gluten sensitivity

Hair loss (seen in SLE, alopecia totalis, thyroid disease)
Joint pain (RA, SLE)
Rashes (SLE, psoriasis)
Research and Treatments
Exciting new research is looking into the gut micro-biome and the immune system.
There are several treatments available for autoimmune conditions. If you have unexplained symptoms, looking into your immune system may be the key. It is important to understand that a diagnosis of autoimmune conditions is not an exact science. There are not perfect tests. Some women visit several physicians before a diagnosis is made. Many physicians recommend a whole food plant-based, anti-inflammatory diet for patients with inflammatory arthritis.
Healthy Living Tips for Autoimmune Diseases
Good nutrition, including a plant based anti-inflammatory diet
Exercise
Healthy lifestyle with stress reduction
Selected therapies that may include disease modifying anti-rheumatic drugs (DMARDS) and selected hormonal therapies as indicated for low hormone state
Be Strong. Be Healthy. Be in Charge!
-Holly L Thacker, MD and Feyrouz Al-Ashkar, MD

Autoimmune Resources
Books
Website
Research Articles
Am J Clin Nutr. 1999 Sep;70(3 Suppl):594S-600S. doi: 10.1093/ajcn/70.3.594s. Rheumatoid arthritis treated with vegetarian diets. Kjeldsen-Kragh J1
Lancet. 1991 Oct 12;338(8772):899-902.Controlled trial of fasting and one-year vegetarian diet in rheumatoid arthritis. Kjeldsen-Kragh J1
Br J Nutr. 2000 Nov;84(5):589-95.The role of meat in the expression of rheumatoid arthritis. Grant WB1.
Clin Rheumatol. 2019 Jan;38(1):243-250. doi: 10.1007/s10067-018-4261-5. Epub 2018 Aug 14. Inflammatory dietary pattern and risk of developing rheumatoid arthritis in women. Sparks JA, et al.
Nutrients. 2017 Mar 15;9(3). pii: E286. doi: 10.3390/nu9030286.Potential Impact of Diet on Treatment Effect from Anti-TNF Drugs in Inflammatory Bowel Disease.Review article Andersen V, et al.
Curr Rheumatol Rev. 2019 Jan 21. doi: 10.2174/1573397115666190121135940. [Epub ahead of print].Lifestyle Modification in Rheumatoid Arthritis: Dietary and Physical Activity Recommendations Based on Evidence.Chehade L, et al.
Nutrients. Published online June 20, 2019. Crohn's disease remission with a plant-based diet: A case report. Sandefur K, Kahleova H, Desmond AN, Elfrink E, Barnard ND.
Rheumatology, Volume 58, Issue Supplement_3, April 2019. Pro-inflammatory diets are associated with increased C-reactive protein and subsequent rheumatoid arthritis in the European Investigation of Cancer: Norfolk Arthritis Register cohort
Ellie Sayers Jack R Dainty Max YatesSuzanne M Verstappen Jacqueline ChippingSimon R Carding Robert N Luben Kay-Tee KhawNick J Wareham Alexander J MacGregor
Arthritis Res Ther. 9(1):R16. Protein, iron, and meat consumption and risk for rheumatoid arthritis: a prospective cohort study. Benito-Garcia E, Feskanich D, Hu FB, Mandl LA, Karlson EW (2007)
Arthritis. 2015;2015:708152. doi: 10.1155/2015/708152. Epub 2015 Feb 28. Whole-foods, plant-based diet alleviates the symptoms of osteoarthritis. Clinton CM, et al.
Feyrouz Al-Ashkar, MD, FACR, is a Staff Physician who specializes in evaluating and treating rheumatic and immunologic disease at Cleveland Clinic Lorain and Avon REJ, Family Health and Surgery Centers. She also specializes in evaluating and treating metabolic bone disorders, such as osteoporosis, osteopenia and paget's disease of the bone.
She is also board-certified by the American Board of Rheumatology and the American Board of Internal Medicine.
---
---
Related Articles
---