Midlife and Depression: The True Connection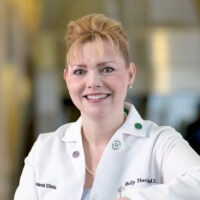 By: Holly L. Thacker, MD • Posted on January 20, 2021
---
Does Menopause Cause Depression?
Mood swings, feeling blue, crying for no reason – it must be the change-of-life?!?
Well, yes and no. For many of us, midlife brings on new and exciting adventures as well as some stressful challenges, such as:
Raising teenagers
Caring for an elderly relative
Being an empty nester for the first time
Dealing with a divorce
Losing a loved one
All of these factors can cause a person to feel depressed, especially the raising teenagers part – right, ladies? And, unfortunately, many of these stressful factors happen to occur during the same time as menopause.
How Does a Woman Know if She has Clinical Depression?
And while menopause is not a major risk for clinical depression, the hormone changes that occur during this time can influence the neurotransmitters in our brains, which help regulate healthy brain function. Menopausal side effects, such as hot flashes and loss of sleep can bring on episodes of depression within women - especially women who have had depression in the past, like postpartum depression and/or severe PMS.
So how do you know if you are clinically depressed or just not feeling like yourself lately? Good question! To help you identify if what you are feeling is truly clinical depression, I have listed some questions below:
Have you lost interest in hobbies or activities that you used to enjoy?
Do you have trouble falling or staying asleep?
Do you feel resentful or angry? Do you have outbursts of complaints or shouting?
Have you lost interest in sex?
Do you feel worthless, unattractive or guilty for no reason?
Do you struggle to concentrate? Are your thoughts muddy or foggy?
Do you worry or experience delusions or fears?
Have you had periods of mania or mood elevation?
Have you considered suicide?
If you answered "yes" to ANY of these questions, you should contact your physician for further discussion right away. Your physician can help you identify the cause of these feelings and find a solution.
Treatment Options for Depression
Depression is very treatable with the following lifestyle changes:
Anti-depressant therapy
"Talk therapy"
Vitamin therapy (if low in vitamin D and B complex)
Light therapy (if depression occurs in the winter)
However, in severe cases additional therapies might be needed and should be directed by a psychiatrist. It is also important to note that if you are clinically depressed and are experiencing menopausal symptoms you will need treatment for BOTH conditions.
Also, if you are depressed and having regular periods, it is not menopause, but still needs to be treated by a physician. It is important to note that the highest incidence of depression typically occurs within thirty-something women who are at home with young children.
Be Strong, Be Healthy, Be in Charge!
- Holly L. Thacker, MD
Holly L. Thacker, MD, FACP is nationally known for her leadership in women's health. She is the founder of the Cleveland Clinic Women's Health Fellowship and is currently the Professor and Director of the Center for Specialized Women's Health at Cleveland Clinic and Lerner College of Medicine at Case Western Reserve University. Dr. Thacker is also the Executive Director of Speaking of Women's Health and the author of The Cleveland Clinic Guide to Menopause. Her special interests and areas of research including menopause and related medical problems including osteoporosis, hormone therapy, breast cancer risk assessment, menstrual disorders, female sexual dysfunction and interdisciplinary women's health.
---
---
Related Articles
---