​Hair Care During the Summer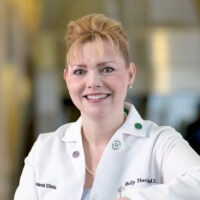 By: Holly L. Thacker, MD • Posted on July 29, 2018 • Updated June 21, 2023
---
Many women are aware of the risks of skin cancer and sunscreens, but summer specific hair and scalp care is often neglected. Yes, the sun can damage your hair, bleach your hair and so can the chemicals in pools. There are many tips and tricks to employ which will protect your hair throughout the summer months.

Protecting Your Hair
Chlorinated pool water will strip hair and skin of its natural oils, which can result in a dry scalp and brittle hair.
3 Steps To Prevent Brittle Pool Hair
Wetting your hair before getting into the pool helps to limit the absorption of chlorine.
Using oil or silicone based hair products will seal in the hair shaft's moisture.
Using a clarifying shampoo immediately after swimming is more effective than standard shampoos in removing chlorine residue.
Protecting Your Scalp
Exposure of the scalp to sunlight can increase the risk for scalp skin cancer and measures should be undertaken to shield these exposed areas. Also, the hair shaft itself is sensitive to sunlight and may result in hair color changes and loss of moisture. Women who have previously colored their hair may notice more dramatic color changes induced from the sun's oxidative effects. Yellow-green hair… yikes!
There are commercially available hair products containing SPF, which limit the damaging effects of UVA and UVB radiation. SPF use for the hair is unique and different than SPF use for the skin. SPF for the hair protects against brittle, dry, color damaged hair whereas SPF for the skin primarily protects against skin cancer.
Wear a Hat
One option to collectively protect the hair, scalp, forehead, ears and neck is a wide-brimmed hat composed of special fibers that block UV radiation. The best hats are marked with an ultraviolet protection factor (UPF) ranging from 15 to 50. At a UPF of 50, only 2% of the UV radiation is transmitted through the fibers.
Using a combination of topical sunscreen, barrier clothing and hats is the absolute best way to shield against the sun. Wear sunglasses to protect your eyes as sun exposure can increase aging of the eyes and cataracts. Do not ever stare at the sun.
Good Nutrition
A healthy diet including protein, zinc, iron and vitamin D3 is very important for hair growth. Biotin in high doses is a popular hair vitamin but actually better for nails and since biotin can interfere with hormone, thyroid and cardiac labs tests it is not recommended or at least important to STOP a few days before labs.
Popular vitamins for hair include Votesse and Neutrofol (the latter includes saw palmetto herb and biotin.) Vitamins can be expensive and it is best to check with your physician before starting any new supplements.

Be Strong. Be Healthy. Be in Charge!
-Holly L. Thacker, MD
Holly L. Thacker, MD, FACP is nationally known for her leadership in women's health. She is the founder of the Cleveland Clinic Specialized Women's Health Fellowship and is currently the Professor and Director of the Center for Specialized Women's Health at Cleveland Clinic and Lerner College of Medicine at Case Western Reserve University. Her special interests are menopause and related medical problems including osteoporosis, hormone therapy, breast cancer risk assessment, menstrual disorders, female sexual dysfunction and interdisciplinary women's health. Dr. Thacker is the Executive Director of Speaking of Women's Health and the author of The Cleveland Clinic Guide to Menopause.
---
---
Related Articles
---