Emergency Pandemic Thoughts from a Women's Health Physician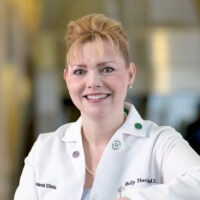 By: Holly L. Thacker, MD • Posted on April 02, 2020
---
COVID-19: Behind the Scenes Perspective from Dr. Holly L. Thacker
Women's Health Physician, Leader, Wife, Mother, Sister, Friend, Co-Worker and Hopeful Future Mimi Shares Tips on Navigating Through the COVID-19 Pandemic
Anyone who knows me well, knows for years I have encouraged young women to have babies, including our wonderful nurses, my current and former Specialized Women's Health fellows and many in between.
I have been concerned about the decreasing birth rates and the delay in childbearing that can lead to infertility. It has been said that there is never a good time or enough money to have a baby, but thankfully baby making will still go on - pandemic or not. Much to my husband's chagrin, I have been known to earnestly spout fertility statistics to people in the grocery store and folks at cocktail parties. Children, grandchildren and great-grandchildren are a blessing to all, and many have said there will be a baby boom about 8-9 months from now!

Adapting to Our New Normal
In the last few weeks, everyone's lives have dramatically changed. Stay-at-home orders, massive stops in commerce, travel and usual business, homeschooling, and delaying virtually all elective medical procedures and surgeries in order to preserve resources for COVID-19. Visitors to hospitals and nursing homes have been strictly limited. Graduations, weddings, baby showers and all the usual hub bub of life have dramatically been shut down.

Our Center for Specialized Women's Health had already started making the transition to telemedicine and virtual visits for some time. I have enjoyed my role as a 'digital champion,' but not all the medical care I offer can be delivered virtually. We still have many patients who need to be seen in person to receive care, exams, office treatments and infusions for osteoporosis. I have been involved in planning and redeploying our hard working physicians, nurses and all of our incredible support staff. I am impressed with everyone's 'all hands on deck' - washed hands that is!
We have adopted saying the Pledge of Allegiance as many school children are also doing while at home. We are being calm, practicing social distancing and are all committed to providing the same high level of care. Several times a day, I am editing, reviewing and posting helpful information on our Speaking of Women's Health channels and occasionally taking a break to receive a call from grateful patients making much appreciated donations to our non-profit Speaking of Women's Health.
Resources for Front Line Caregivers
As an elected Councilor of our Ohio State Medical Association for the last eight years and as an individual national physician advocate, I have had the privilege and responsibility of talking with physicians around the great state of Ohio and our nation. It is exciting and very hopeful to hear about rapid innovations in point of care testing, old therapies that may be employed for anti-viral effects, accelerated vaccine trials and the need to unleash our supply chains as all of our brave, fearless front line caregivers need Personal Protective Equipment (PPE) and all the resources they need.
We are all learning important lessons on preparedness, the true threat of pandemics, the need to bring back drug manufacturing to America and the importance of hand-washing, isolating when sick and getting appropriate vaccinations. I think my nephew, Keatin, who was diagnosed with influenza will now NEVER miss his influenza vaccination in the fall. This pandemic has been a defining moment for this generation.
Everyone needs to do what they can to stay calm and follow local authority sheltering orders And if you are able, please check on the elderly and consider donating blood. Understand in the not too distance future we will all return to happy gatherings and celebrations like weddings and baby showers. And I am hearing from a little birdie that I will become a Mimi come autumn!
Be Strong. Be Healthy. And Stay in Charge!
-Holly L. Thacker, MD

Holly L. Thacker, MD, FACP is nationally known for her leadership in women's health. She is the founder of the Cleveland Clinic Women's Health Fellowship and is currently the Professor and Director of the Center for Specialized Women's Health at Cleveland Clinic and Lerner College of Medicine at Case Western Reserve University. Her special interests are menopause and related medical problems including osteoporosis, hormone therapy, breast cancer risk assessment, menstrual disorders, female sexual dysfunction and interdisciplinary women's health. Dr. Thacker is the Executive Director of Speaking of Women's Health and the author of The Cleveland Clinic Guide to Menopause.
---
---
Related Articles
---