When Other Depression Treatments Haven't Worked, TMS Can Help
By: ​Murat Altinay, MD • Posted on September 30, 2015
---
What is Major Depressive Disorder?
Major depressive disorder (MDD) is one of the most common psychiatric disorders with a 10-15% prevalence and bigger impact on women. The risk of developing MDD in a lifetime is twice as high for women (1).
Today, only a subset of patients with MDD respond to conventional treatments like antidepressants and psychotherapy, and patients who do not respond to one or more antidepressants in their current depressive episode are deemed to have treatment resistant depression (TRD). For patients with TRD, the limited psychopharmacological options led researchers to develop new treatment modalities, such as Transcranial Magnetic Stimulation (TMS).
TMS Treatment for Major Depressive Disorder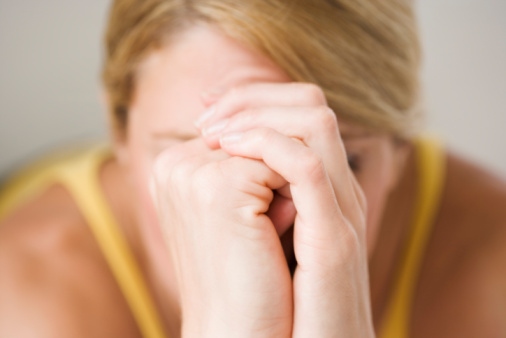 TMS is a neuromodulation technique that uses magnetic energy to stimulate desired brain regions. The magnetic energy generated by the eight-shaped TMS coil gets converted into electrical energy and stimulates the applied brain regions right underneath the coil.
Results from double-blind placebo controlled trials (2, 3) revealed that TMS, when applied on left dorsolateral prefrontal cortex (DLPFC) was effective in patients who failed to respond to one antidepressant trial in their current episode. This brain region was determined to be the area of target from the previous neuroimaging studies (4-6).
In 2008, the Food and Drug Administration (FDA) approved TMS for the treatment of MDD in patients who do not respond to at least one antidepressant in their current depressive episodes.
The Side Effects of TMS
TMS is a well-tolerated treatment, where the treatment is administered as an outpatient treatment in a psychiatrist's office. A typical treatment lasts between 30 to 40 minutes, and the patient is fully awake during the procedure and they can resume their daily activities right after the treatment.
TMS has very limited side effects, the most serious side effect is an epileptic seizure. This is a rare occurrence (7-9), and to date there are only very few cases reported since TMS was started to be used as a treatment for depression (8). Other side effects include the following, which can be relieved by over the counter pain medications:
mild headache
scalp discomfort (2)
TMS is currently used as an adjunct treatment where patients remain on their current antidepressants. However, given that TMS uses a different mechanism compared to medications, for patients who are sensitive to medication side effects (including but not limited to pregnant and nursing mothers), TMS can be an alternative in treating MDD.
TMS Treatment is Safe for Pregnant and Nursing Women
TMS, which does not have systemic effects, is therefore a treatment that could be used in special populations, including:
Pregnancy
Nursing mothers
Patients who are sensitive to the use of oral systemic medication side effects
Be Strong. Be Healthy. Be In Charge!
-Murat Altinay, MD
Psychiatrist
Mood Disorders and Neurosciences
Center for Behavioral Health, Cleveland Clinic
REFERENCES
Kessler RC. Epidemiology of women and depression. J Affect Disord. 2003;74:5-13.
O'Reardon JP, Solvason HB, Janicak PG, Sampson S, Isenberg KE, Nahas Z, McDonald WM, Avery D, Fitzgerald PB, Loo C, Demitrack MA, George MS, Sackeim HA. Efficacy and safety of transcranial magnetic stimulation in the acute treatment of major depression: a multisite randomized controlled trial. Biological psychiatry. 2007;62:1208-1216.
O'Reardon JP, Blumner KH, Peshek AD, Pradilla RR, Pimiento PC. Long-term maintenance therapy for major depressive disorder with TMS. The Journal of clinical psychiatry. 2005;66:1524-1528.
George MS, Wassermann EM, Williams WA, Callahan A, Ketter TA, Basser P, Hallett M, Post RM. Daily repetitive transcranial magnetic stimulation (rTMS) improves mood in depression. Neuroreport. 1995;6:1853-1856.
Rigucci S, Serafini G, Pompili M, Kotzalidis GD, Tatarelli R. Anatomical and functional correlates in major depressive disorder: the contribution of neuroimaging studies. The world journal of biological psychiatry : the official journal of the World Federation of Societies of Biological Psychiatry. 2010;11:165-180.
Kimbrell TA, Ketter TA, George MS, Little JT, Benson BE, Willis MW, Herscovitch P, Post RM. Regional cerebral glucose utilization in patients with a range of severities of unipolar depression. Biological psychiatry. 2002;51:237-252.
Anderson B, Mishory A, Nahas Z, Borckardt JJ, Yamanaka K, Rastogi K, George MS. Tolerability and safety of high daily doses of repetitive transcranial magnetic stimulation in healthy young men. The journal of ECT. 2006;22:49-53.
Rossi S, Hallett M, Rossini PM, Pascual-Leone A, Safety of TMSCG. Safety, ethical considerations, and application guidelines for the use of transcranial magnetic stimulation in clinical practice and research. Clinical neurophysiology : official journal of the International Federation of Clinical Neurophysiology. 2009;120:2008-2039.
George MS, Taylor JJ, Short EB. The expanding evidence base for rTMS treatment of depression. Current opinion in psychiatry. 2013;26:13-18.
---
---
women, women's health, stress, depression, major depressive disorder, MDD, TMS, Transcranial Magnetic Stimulation, treatment, antidepressant, Treatment Resistant Depression, pregnancy
Related Articles
---