Welcome Home! An Early and a Very Late Mother's Day Gift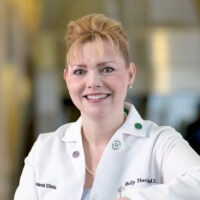 By: Holly L. Thacker, MD • Posted on May 08, 2013
---
3 Cleveland Women Finally Free
Being a busy physician, wife, mother as well as the Executive Director of Speaking of Women's Health, I do not have the luxury of following all the details of the news cycle. However, I, like millions of people around the world, riveted to the news of the miraculous freedom of the three young women who had been held captive for more than a decade in Cleveland just a few blocks from trendy areas and upscale restaurants. The women were held just a few miles from where I live and work.
The words of Amanda Berry's 911 call, "I've been kidnapped. And I've been missing for 10 years. And I'm here. I'm free now," echoed around the world in the hearts and minds of mothers everywhere. Having your child abducted, raped and tortured is every mother's nightmare. The abductor, Ariel Castro, has been charged. It has been reported that on separate occasions, he lured the then young teens with a ride. It was a House of Horror.
I cheered and cried tears of joy as Amanda Berry (and her young daughter who was born during her abuse and captivity) and Gina DeJesus returned to their families. The third woman, Michelle Knight, returned to the hospital for observation. The cheers, hugs, balloons and welcome home signs were bittersweet. Amanda's mother who had searched for her for years kept vigil and wrapped birthday gifts as each year passed. Sadly and not unexpectedly, she died from a 'broken heart' and did not live to see her daughter or her granddaughter, who was born on Christmas day. The baby was delivered by Michelle Knight and born into a small, inflatable swimming pool during the time the women were held in captivity.
Happy Mother's Day
This will be the first Mother's Day that Amanda celebrates this special day in freedom. This is the first time in a decade that these women will see family and friends and enjoy the beautiful sights of spring. Hopefully, they will all begin the healing process from a most gruesome and unthinkable existence.
We salute their freedom. We celebrate their strength. We pray for their health and for the safety of children everywhere. Happy Mother's Day to all mothers and children - and to those that love them.
Be Strong. Be Healthy. And Be in Charge.
-Holly L. Thacker, MD
Holly L. Thacker, MD, FACP is nationally known for her leadership in women's health. She is the founder of the Cleveland Clinic Women's Health Fellowship and is currently the Professor and Director of the Center for Specialized Women's Health at Cleveland Clinic and Lerner College of Medicine at Case Western Reserve University. Dr. Thacker is also the Executive Director of Speaking of Women's Health and the author of The Cleveland Clinic Guide to Menopause. Her special interests and areas of research include menopause and related medical problems including osteoporosis, hormone therapy, breast cancer risk assessment, menstrual disorders, female sexual dysfunction and interdisciplinary women's health.
---
---
Related Articles
---