Sexual Abuse of Children….Horrific and Not So Rare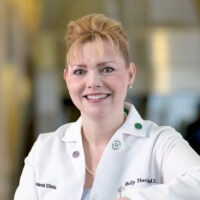 By: Holly L. Thacker, MD • Posted on November 20, 2011 • Updated April 30, 2023
---
Protecting Our Children
The Speaking of Women's Heath motto of Be Strong, Be Healthy, Be in Charge must be started at the earliest of ages. We must empower our children to immunize them against predator adults.
Furthermore, we must investigate concerns and report any suspicious behavior of adults to the police. Governors throughout the country say it should be a felony to witness child abuse and not report it to the police.
The National Child Abuse Hotline is 1-800-422-4453 (1-800-4-A-CHILD) where crisis counselors are available. Call the police, follow up, be persistent and, if you are a past survivor of childhood abuse, tell your physician as this trauma can affect your health. There are resources to help you. We all have to be part of the solution and protect and empower our children, our future.
Be Strong, Be Healthy, and Be in Charge!
- Holly L. Thacker, MD
Holly L. Thacker, MD, FACP is nationally known for her leadership in women's health. She is the founder of the Cleveland Clinic Women's Health Fellowship and is currently the Professor and Director of the Center for Specialized Women's Health at Cleveland Clinic and Lerner College of Medicine at Case Western Reserve University. Her special interests are menopause and related medical problems including osteoporosis, hormone therapy, breast cancer risk assessment, menstrual disorders, female sexual dysfunction and interdisciplinary women's health. Dr. Thacker is the Executive Director of Speaking of Women's Health and the author of The Cleveland Clinic Guide to Menopause.
---
---
---