Top 7 Health Concerns For Women And What To Do About Them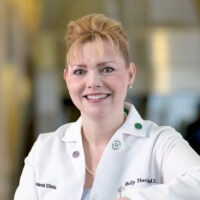 By: Holly L. Thacker, MD • Posted on February 27, 2020
---
Preventive Medicine Expert Offers Tips
When we're young, most of us don't worry much about our health. But starting in our late 30s, some health concerns start nagging at us. Or we notice our friends or relatives grappling with health problems.
Major health concerns vary by age, says Cleveland Clinic preventive medicine and specialty women's health expert, Dr. Holly L. Thacker. "For example, women begin to grow concerned about menopause and aging in their 40s and 50s, start to worry about osteoporosis in their 60s, and worry about staying independent in their 70s and 80s," she notes.
Below are the major health concerns for women, along with tips for prevention.
1. Cancer
Breast cancer
Cervical cancer
Colon cancer
2. Cardiovascular Disease/High Blood Pressure/High Cholesterol
3. Osteoporosis
4. Menopause Treatment Options
5. Weight Management As You Get Older
6. Diabetes
7. Stroke
Be Strong. Be Healthy. Be in Charge!
-Holly L. Thacker MD
Holly L. Thacker, MD, FACP is nationally known for her leadership in women's health. She is the founder of the Cleveland Clinic Women's Health Fellowship and is currently the Professor and Director of the Center for Specialized Women's Health at Cleveland Clinic and Lerner College of Medicine at Case Western Reserve University. Her special interests are menopause and related medical problems including osteoporosis, hormone therapy, breast cancer risk assessment, menstrual disorders, female sexual dysfunction and interdisciplinary women's health. Dr. Thacker is the Executive Director of Speaking of Women's Health and the author of The Cleveland Clinic Guide to Menopause.
---
---
women's health, stroke, diabetes, pre-diabetes, weight management, weight loss, menopause, hormone therapy, osteoporosis, cardiovascular disease, high blood pressure, high cholesterol, breast cancer, cancer in women, cervical cancer, colon cancer
Related Articles
---