Tips on How to Control Hot Flashes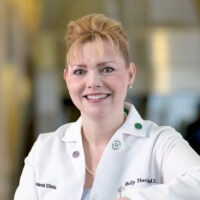 By: Holly L. Thacker, MD • Posted on November 22, 2011 • Updated April 03, 2023
---
Even though the severity varies, there is one menopausal symptom that is very common and potentially disruptive to your life — hot flashes. Thankfully, there are ways to help control these "flashing" moments.
Reducing Environmental Hot Flash Triggers
One of the easiest ways to combat flashing is to avoid environmental triggers, such as:
Stuffy rooms
Warm weather
Caffeine
Alcohol
Spicy foods
Tight clothing
Heat
Smoking cigarettes
Uncovering Hot Flash Patterns
Keeping track of when your hot flashes occur is another great way to identify which environmental triggers cause you to flash. I recommend doing this over the course of a couple of days. Make sure to include what was going on before the hot flash started, such as:
Were you drinking a cup of coffee?
Did you have a glass of wine?
Were you stressed out?
Were you asleep?
Did you just finish a spicy meal?
Not only will this help you identify your hot flash pattern, it will help you plan ahead. For example, if you notice that you tend to have hot flashes during the night, you will want to wear cotton or linen pajamas to bed and consider sleeping on a cool "chill pillow" to help reduce the heat.
Other ways to cool down your hot flashes are wearing layered clothing, exercising daily, arriving at meetings early to pick the coolest seat in the room and practicing deep-breathing exercises to help you relax during stressful situations.
Hormone Therapy Can Help Treat Menopause Symptoms
If the above suggestions don't help, menopausal hormone therapy will be needed to treat your hot flashes. Hormone therapy is effective and the benefit for most women with menopausal symptoms outweighs the rare risks associated with hormone therapy.
Be Strong, Be Healthy, and Be in Charge!
- Dr. Holly L. Thacker
Holly L. Thacker, MD, FACP is nationally known for her leadership in women's health. She is the founder of the Cleveland Clinic Women's Health Fellowship and is currently the Professor and Director of the Center for Specialized Women's Health at Cleveland Clinic and Lerner College of Medicine at Case Western Reserve University. Dr. Thacker is also the Executive Director of Speaking of Women's Health and the author of The Cleveland Clinic Guide to Menopause. Her special interests and areas of research including menopause and related medical problems including osteoporosis, hormone therapy, breast cancer risk assessment, menstrual disorders, female sexual dysfunction and interdisciplinary women's health.
---
---
Related Articles
---