Menopausal Hormone Therapy and Breast Cancer
Is there a link to hormone therapy and an increase risk of breast cancer?
---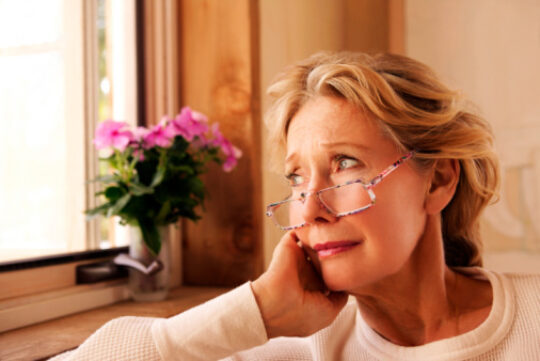 What is Hormone Therapy?
Hormone therapy (HT) is a treatment program in which a woman takes estrogen and progestagen (a synthetic or natural form of progesterone) to relieve menopause symptoms. HT also reduces a woman's risk for osteoporosis and other conditions that become more common after menopause.
While HT has many benefits, it has been shown to increase a postmenopausal woman's risk of being diagnosed with breast cancer especially after age 60. Studies show the risk is reduced when HT is stopped, and the risk no longer increases. Estrogen therapy alone does NOT increase the risk of being diagnosed with breast cancer. In fact, it has been associated with a reduced risk of breast cancer diagnosis in women with hysterectomy. (Women with a uterus need progestagen to balance the estrogen which is stimulatory to the lining of the uterus/the endometrium.)
Increased Risk of Breast Cancer Diagnosis with Prolonged Use of Long Term Estrogen-Progestagen Therapy
The length of time a woman takes HT also affects a woman's risk. Taking HT for five to 10 or more years increases the risk of diagnosis. However, postmenopausal women who take HT for menopausal symptoms for over 5 years have a 30% reduction in all-cause mortality. Taking HT does NOT increase the overall risk of death or death from cancer.
Do the Benefits of HT Outweigh the Risk?
The known link between HT and increased breast cancer risk has unfortunately discouraged many women and their doctors from choosing or recommending hormone therapy (HT). Most breast specialists do not recommend HT for breast cancer survivors, while others may recommend HT based on its potential benefits, including quality of life concerns. Furthermore, breast cancer survivors who still menstruate are not discouraged from being pregnant.
The type of hormone therapy (estrogen only or combination of estrogen and progestagen), as well as the woman's individual characteristics and symptoms should be considered when weighing the risks and benefits of HT. The decision to use HT after menopause should be made by a woman and her health care provider after weighing all of the potential risks and benefits. However, for most women with menopausal symptoms the benefits outweigh the risks. The most common risk associated with any type of HT is the risk of blood clot.
Treatment Options for Postmenopausal Women
Selective estrogen receptor modulators (SERMs), so called Estrogen agonist-Estrogen antagonist, are a newer class of drugs -- similar to estrogen -- that protect against osteoporosis by increasing bone mineral density, while reducing the risk of being diagnosed with estrogen receptor positive of breast cancer.
Evista®
A large study showed the SERM raloxifene, marketed as Evista®, reduced the risk of breast cancer diagnosis in postmenopausal women by 50 percent. The Food and Drug Administration (FDA) has approved Evista for a very specific breast cancer indication:
For the reduction in risk of invasive breast cancer in postmenopausal women at high risk for invasive breast cancer.
It is also approved for the treatment and prevention of osteoporosis.
However, it does not treat hot flashes or vaginal atrophy/thinning.
It is important to understand that Evista did NOT receive approval for the following:
Treatment of invasive breast cancer
Reduction of the risk of recurrent breast cancer
Reduction of the risk of noninvasive breast cancer
Reduction of breast cancer risk in PRE-menopausal women
Tamoxifen
Tamoxifen (Nolvadex®), another SERM, is also FDA approved for the reduction of the incidence of breast cancer in women at high risk, including premenopausal women. Tamoxifen is also approved for the treatment of:
Metastatic breast cancer (cancer that has spread beyond the breast tissue)
Adjuvant breast cancer
Ductal carcinoma in situ
Tamoxifen, like raloxifene, is associated with an increased risk of blood clots. And tamoxifen, but not raloxifene, is associated with increased risk of uterine bleeding and endometrial cancer in women over age 50. Tamoxifen is not approved for osteoporosis treatment or prevention like raloxifene.
---
---