What is the Connection Between Breast Cancer and Menopause?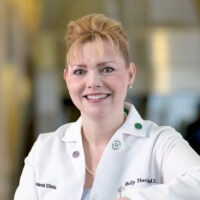 By: Holly L. Thacker, MD • Posted on September 18, 2020
---
Breast Cancer and Menopause
Menopause itself is not associated with an increased risk of developing cancer. However, the rates of many cancers, including breast cancer, do increase with age. In addition, some of the drugs used to manage menopausal symptoms may potentially increase or decrease a woman's cancer risk.
What Are the Risk Factors for Breast Cancer?
Certain factors increase the risk of developing breast cancer. However, having many risk factors does not mean a woman will develop breast cancer, and having few risk factors does not mean you are immune from the disease.
Age is the single-most important risk factor for breast cancer. The chances of developing the disease increases with age. About 70 percent of women diagnosed with breast cancer each year are over the age of 50, and almost half are 65 and older.
Personal risk is also greater if an immediate family member has had breast cancer, particularly if it was at an early age. Also, women who have had a breast biopsy (removal of breast tissue) that shows certain types of benign disease, such as atypical hyperplasia, are more likely to get breast cancer. Other risk factors include:
Being overweight
Dense breasts
Excessive alcohol use (you should limit yourself to 3-5 alcoholic drinks per week)
Having a first child after age 30 (having a baby before the age of 30 and especially before the age of 20 matures the breast and reduces breast cancer risks)
Having cancer in one breast (may develop in other)
Late menopause (after age 55)
Never breastfeeding
Never having children
Poor nutrition and low vitamin D
Smoking
Starting menstruation early in life (before age 10)
Does Hormone Therapy Increase a Woman's Chances of Developing Breast Cancer?
Evidence suggests that the longer a woman is exposed to estrogen combined with progestogens, the more likely she is to be diagnosed with breast cancer. However, increased risk of dying of breast cancer is not proven.
Hormone therapy (HT) is given to postmenopausal women to supplement the estrogen no longer produced by the ovaries. The longer a woman is exposed to combination hormones the greater her chances are of being diagnosed with breast cancer. However, usually the life span is LONGER.
Estrogen alone in women with hysterectomy (who do not need progesterone to protect the uterus) does NOT increase the risk of breast cancer. In fact, it reduces the risk of breast cancer diagnosis and reduces overall death rate.
Can I Prevent Breast Cancer?
There are steps you can take to detect the disease in its early stages and increase your chances of survival:
Focus on lifestyle: exercise, weight loss, healthy diet and adequate vitamin D intake. Stop smoking if you smoke and reduce alcohol consumption.

Know your family history and discuss this with your physician as some women benefit from genetic counseling.
Discuss chemo-prevention options like treatment with tamoxifen or raloxifene if you are at an increased risk.
Get a screening mammogram.
When should a woman get a mammogram?
Multiple national specialty organizations have released breast cancer screening guidelines for women at average risk for developing breast cancer - guidelines that are based on both evidence and opinion, yet differ on when to start and how often to screen for breast cancer. With representation from Breast Imaging, Internal Medicine, Women's Health, Family Medicine, and Medical/Surgical Oncology, the Cleveland Clinic has carefully reviewed the data and reached the following consensus:
All women should engage in shared decision-making with their physicians to decide when to start and how often to screen.
All women should have the opportunity to start screening mammography at age 40.
For women ages 45-55, we recommend annual screening mammograms.
For women ages 55 and over, we support both the transition from an annual to a biennial interval if this aligns more with patient's values and preferences, or continuation with annual screening.
All women should discuss with their physician when to stop screening mammograms which for many may be around age 75.
Recommendations vary, so at Cleveland Clinic, we've reviewed current guidelines (some of which differ from one another) and have developed consensus guidelines for our patients. Our recommendation is that a woman should have the first option to start screening mammography beginning at age 40. However, we encourage shared decision-making between women and their physicians. From the ages of 45-55, we recommend yearly screening for all women. Then, at the age of 55, each woman should have a conversation with her doctor about whether she should continue every year or go to an every-two-years screening schedule.

Regardless of your age, if you're experiencing breast symptoms such as pain or nipple discharge or have felt a lump, you should seek evaluation from your medical provider and diagnostic imaging should be scheduled as soon as possible.
What is a Mammogram?
Mammography is an important method of early detection. The purpose of a screening mammogram is to find abnormalities that are too small to be seen or felt. However, mammograms will not detect all breast cancers, which is why physical breast exams are important if there are symptoms. 3D tomo mammograms (digital tomosynthesis) may be better for dense breasts and may reduce call backs for follow-up mammograms. However, 3D mammograms are higher radiation exposure and insurance coverage may vary.
Certain high risk women like women who have had breast cancer, women with a history of chest radiation and/or women with genetic mutations with higher risks of breast cancer need yearly exams, mammograms and may need breast MRI and/or other interventions.
How Is Breast Cancer Diagnosed?
Early Stage Detection
Detection of breast cancer in its early stages – hopefully before it moves outside the breast – can significantly improve the chances that treatment will be successful. The survival rate from breast cancer increases when the disease is detected and treated early. However, over-imaging of the breasts may over-diagnose breast cancer that may never affect the woman's lifespan and then lead to intervention, surgery, chemotherapy and a woman being taken off postmenopausal estrogen therapy.

Women need their screenings individualized to their individual profiles, preferences and risk assessment. One size does NOT fit all. Talk with your physician to see what is best for your breast health.
Be Strong, Be Healthy, Be in Charge!
-Holly L. Thacker, MD
Holly L. Thacker, MD, FACP is nationally known for her leadership in women's health. She is the founder of the Cleveland Clinic Women's Health Fellowship and is currently the Professor and Director of the Center for Specialized Women's Health at Cleveland Clinic and Lerner College of Medicine at Case Western Reserve University. Her special interests are menopause and related medical problems including osteoporosis, hormone therapy, breast cancer risk assessment, menstrual disorders, female sexual dysfunction and interdisciplinary women's health. Dr. Thacker is the Executive Director of Speaking of Women's Health and the author of The Cleveland Clinic Guide to Menopause.
---
---
Related Articles
---