"Surviving Menopause" Video Series: Osteoporosis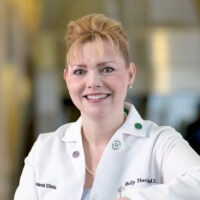 By: Holly L. Thacker, MD • Posted on October 11, 2011 • Updated May 24, 2023
---
What are the Symptoms of Osteoporosis?
Do you know the symptoms of osteoporosis, a disease that 50% of women over age 50 develop? It's a trick question — there aren't any symptoms.
Too often, women discover they have osteoporosis only after breaking a bone and many women who break a bone, blame it on that hard black ice and not the disease osteoporosis.
Is it Normal to Break a Bone After a Fall?
It Is NOT NORMAL to break a bone as an adult and ANY bone broken after a fall from a standing position is osteoporosis until proven otherwise. That is why it is SO important to identify bone loss early so osteoporosis can be prevented and treated. That's also why I made osteoporosis the subject of the first video in our new "Surviving Menopause" video series.
In this short video, I explain how the loss of estrogen causes osteoporosis, which lifestyle changes help prevent and what you can do to determine if your bones are getting weaker.

Each video in the series will focus on women's health issues such as menopause, bioidentical hormone therapy, urinary incontinence and sex and sexual dysfunction. If you find them helpful, share them with your friends! Cheers!...with a glass of milk.
Be Strong, Be Healthy, Be in Charge!
- Dr. Holly L. Thacker
Holly L. Thacker, MD, FACP is nationally known for her leadership in women's health. She is the founder of the Cleveland Clinic Women's Health Fellowship and is currently the Professor and Director of the Center for Specialized Women's Health at Cleveland Clinic and Lerner College of Medicine at Case Western Reserve University. Dr. Thacker is also the Executive Director of Speaking of Women's Health and the author of The Cleveland Clinic Guide to Menopause. Her special interests and areas of research including menopause and related medical problems including osteoporosis, hormone therapy, breast cancer risk assessment, menstrual disorders, female sexual dysfunction and interdisciplinary women's health.
---
---
Related Articles
---