Yam Chocolate Spice Bars
---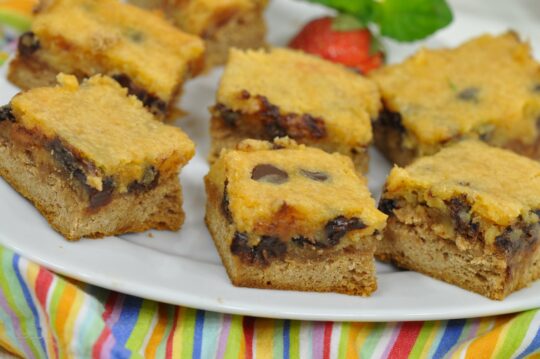 One bite of this incredible fall favorite made with a spice cake mix, yam filling and chocolate chips was a taste sensation. This will be a requested recipe. Good use for leftover cooked sweet potatoes.
This recipe is from Holly Clegg's trim&TERRIFIC® Eating Well to Fight Arthritis cookbook.
Ingredients
Makes 48 squares
1 (18.25-ounce) box spice cake mix
1/2 cup butter, melted
1 egg
1 (8-ounce) package reduced-fat cream cheese
1 (15-ounce) can sweet potatoes, drained and mashed
1 (16-ounce) box confectioners' sugar
2 egg whites
1 teaspoon vanilla extract
2/3 cup semisweet chocolate chips
Preparation
Preheat oven to 350° F. Coat 13x9x2-inch baking pan with nonstick cooking spray.
In mixing bowl, beat together cake mix, butter, and egg until well mixed. Spread batter into prepared pan.
In mixing bowl, beat together cream cheese, sweet potatoes, confectioners' sugar, egg whites, and vanilla until creamy. Stir in chocolate chips. Pour mixture over batter in pan.
Bake 40-50 minutes or until top is golden brown. Cool to room temperature and cut into squares
Nutritional Analysis (per serving)
Calories 134,
Calories from Fat 31%
Fat 5g
Saturated Fat 3g
Cholesterol 12mg
Sodium 116mg
Carbohydrates 22g
Dietary Fiber 0g
Total Sugars 16g
Protein 2g
Dietary Exchanges: 1 1/2 other carbohydrate, 1 fat
Terrific Tip: Most bar cookies freeze well, so feel free to make ahead and pull out when you have a craving.
Nutrition Nugget: You know yams are an excellent source of antioxidant-rich carotenoids because of their deep orange color – great for reducing inflammation.
---
---