Olive Parmesan Cheese Bites
---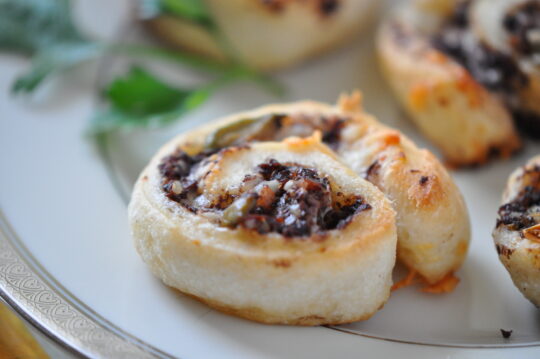 Grab a can of pizza dough, spread with pre-made olive mixture and Parmesan cheese for an instant incredible pick-up. Refrigerate leftovers and reheat in oven.
Enjoy more delicious recipes from Holly Clegg's cookbook, Holly Clegg's trim&TERRIFIC™ Kitchen 101: Secrets to Cooking Confidence.
Ingredients
1 (10-13.8-ounce) can refrigerated pizza crust dough
1/2 cup olive tapenade
2/3 cup grated Parmesan cheese
Preparation
Preheat oven 450°F.
Coat baking pan with nonstick cooking spray.
Unroll pizza crust dough and spread olive tapenade over dough, leaving 1/4-inch border.
Sprinkle with cheese.
Cut dough across in middle to make two rectangles.
Carefully, roll up each rectangular piece of dough, starting at long side.
Cut into 1-inch slices.
Place slices in prepared pan.
Coat top with nonstick cooking spray.
Bake 10-12 minutes or until golden.
Remove from pan and serve immediately.
Makes 28 bites
Nutritional Analysis (per serving)
Calories: 56
Calories from Fat: 34%
Fat: 2g
Saturated Fat: 0g
Cholesterol: 189mg
Carbohydrates: 7g
Dietary Fiber: 0g
Total Sugars: 1g
Protein: 2g
Dietary Exchanges: 1/2 starch, 1/2 fat
Terrific Tip: Olive tapenade can be found in the pickle/ olive aisle of the grocery store, as it is simply a blend of several types of olives and spices in a spreading consistency. In a pinch raid the olive bar and chop olives in food processor.
---
---