Cucumber, Mint and Feta Salad
Holly Clegg, author of Kitchen 101: Secrets to Cooking Confidence
---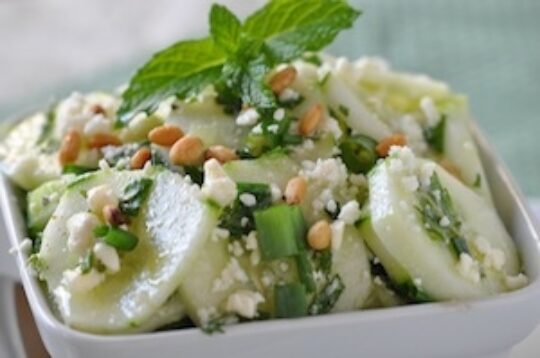 The delightfully crisp Cucumber, Mint and Feta Salad is from the 'Ready-Made Menus – Summer Sensations' chapter of Holly Clegg's KITCHEN 101: Secrets to Cooking Confidence cookbook.

Ingredients
3 cups thinly sliced peeled cucumber
1/4 cup crumbled reduced-fat feta
1/4 cup seasoned rice vinegar
1 tablespoon olive oil
3 tablespoons chopped green onion
3 tablespoons fresh chopped mint
2 tablespoons pine nuts, toasted
Salt and pepper to taste
Preparation
In bowl, combine cucumber and feta.
In a small bowl, whisk together vinegar, oil and green onion.
Toss with cucumber and feta.
Add the mint and pine nuts.
Season to taste.
Nutritional Analysis (per serving)
Calories: 96 kcal
Calories from Fat: 57%
Fat: 6 g
Saturated Fat: 1 g
Cholesterol: 3 mg
Sodium: 320 mg
Carbohydrates: 7 g
Dietary Fiber: 1 g
Total Sugars: 6 g
Protein: 3 g
Dietary Exchanges: 1/2 other carbohydrate, 1 fat
Terrific Tip: This is one time fresh mint makes a difference. Pine nuts are pricey so if you don't want to use them, just leave them out.
---
---