Chicken Teriyaki "Wings"
Recipe from Dottie Peoples, Speaking of Women's Health Celebrity Spokeswoman.
---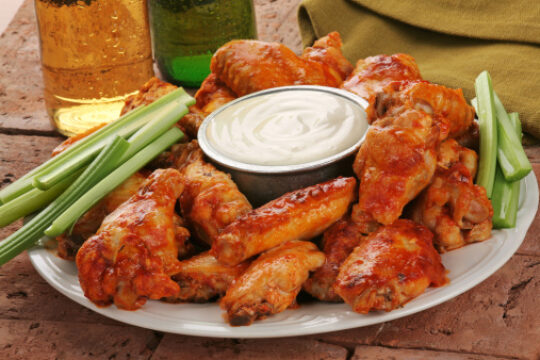 These chicken "wings" are a healthy version of the traditional favorite. By using low-sodium soy sauce and rice vinegar, you can make healthier chicken "wings" without sacrificing taste. They will fly off the platter at your next family gathering!
Ingredients
4 skinned chicken breast halves, boned and defatted
1/2 cup low-sodium wheat-free tamari soy sauce
2 tablespoons rice vinegar
3 teaspoons chopped fresh garlic
3 teaspoons fresh ginger, minced
1 1/2 cups thawed apple juice concentrate
1/2 cup finely chopped green onions
Preparation
Combine all ingredients except green onions and chicken in blender container and process. Stir in the onions.
Place chicken in glass baking dish and pour the marinade over chicken. Marinate for 10 minutes to 1 hour. Turn chicken occasionally to distribute marinade evenly.
Preheat grill or broiler. Grill or broil 5-10 minutes on each side or until chicken is cooked through.
This recipe makes 4 servings
Nutritional Analysis (per serving)
200 calories
27 grams protein
13 grams carbohydrates
3 grams fat
72 milligrams cholesterol
402 milligrams sodium
Trace fiber
---
---