Asian Cucumber Salad
Recipe submitted by Holly Clegg, author of Too Hot in the Kitchen: Secrets To Sizzle At Any Age.
---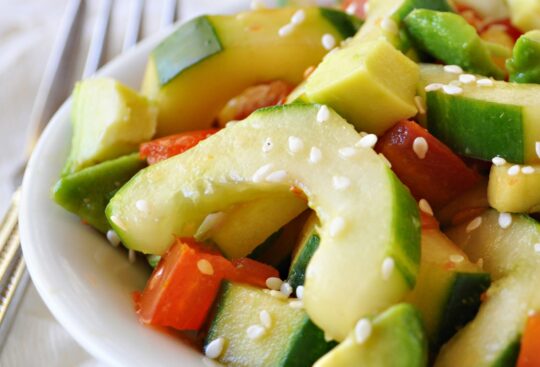 The citrus and ginger-soy sauce dressing turn cucumbers, tomatoes and avocados into a splendid salad. Serve this on a warm summer's day to add the perfect flavor to your next gathering.
Ingredients
2 large cucumbers
1/2 cup chopped avocado
1/2 cup chopped tomatoes
2 tablespoons of low-sodium soy sauce
2 tablespoons of NAKANO seasoned rice vinegar
2 tablespoons of orange juice
1 tablespoon lemon juice
1 teaspoon grated fresh ginger
1 teaspoon sesame seeds, toasted
Preparation
Partially peel (peel in strips lengthwise) cucumbers, cut in half lengthwise.
Remove seeds by scraping with spoon and cut into thin slices horizontally (instead of chopping), about 2 cups sliced.
In bowl, place cucumbers, avocado and tomatoes.
In smaller bowl, whisk together soy sauce, vinegar, orange and lemon juice and ginger. Toss with cucumber mixture.
Sprinkle with sesame seeds, serve.
This recipe makes 4 (3/4 cup) servings.
Nutritional Analysis (per serving)
66 calories (46 % calories From fat)
4 grams fat
0 grams saturated fat
0 milligrams cholesterol
309 milligrams of sodium
7 grams carbohydrate
3 grams dietary fiber
3 grams sugars
2 grams protein
Dietary Exchanges: 1 vegetable, 1 fat
---
---