Start Talking! The Opiate Drug Epidemic Must Be Stopped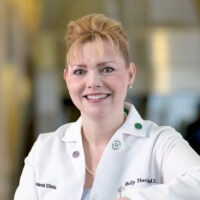 By: Holly L. Thacker, MD • Posted on February 07, 2017
---
The Drug Epidemic
For almost a decade, drug overdoses have outnumbered deaths from car accidents or gun deaths in America according to the Drug Enforcement Act (DEA).
Sadly, my home state of Ohio, the famous Presidential state for being politically a "bellwether" state, now leads the US in overdoses. While Ohio may be predictive of the Presidency and portends the political trends of the independents, every single person in every single state of all political stripes must take notice of this drug epidemic and get involved.
In Ohio, there has been a 21% increase in drug overdose deaths, and I have seen this firsthand in my small suburban community. I serve as an elected School Board member and I just received the sad news that one of our recent high school graduates died of an overdose. This beautiful young woman came from an intact, supportive family. Drugs can affect anyone. Nowadays, most everyone knows someone who has been affected by this horrific epidemic.
Ohio Hit Hard With Drug Overdose
Ohio has been hit hard with drug abuse and overdose. Below are a few examples of the drug usage happening in the state of Ohio.
Ohio has the country's most deaths related to heroin with 1 in 9 deaths across the US happening in Ohio.
The Buckeye state unfortunately recorded the most deaths from synthetic opioids (about 1 in 14 of all US deaths).
Ohio has made great strides in reducing overdose from oral narcotics, however addicts are now turning to more potent IV (intravenous) fentanyl and IV heroin.
Drug Facts
Drug overdose is the leading cause of accidental death in the US. Opioid addiction disease facts and figures:
Opiates are a group of medications that treat pain but also include the illicit drug heroin.
Many heroin users start out using prescription pain medicines
Women are more likely to have chronic pain and be prescribed pain medicines, and take them for longer periods than men. Deaths from overdose in women has increased more than 400% compared to 237% among men.
Adolescent rates of heroin are increasing, and the Centers for Disease Control reports more high school seniors use marijuana than smoke cigarettes.
Marijuana remains the most commonly used illicit drug and with the trend towards some states legalizing both medical marijuana and recreational marijuana, the concentrates and potency levels may far exceed the psychoactive drug levels of the leaf marijuana.
What can you do?
Get educated
Find resources
Talk to your children and family
Get involved in your community
I serve as an elected representative for the Ohio State Medical Association and have worked closely with the governor, physicians and the community to educate, reduce and monitor prescription opiates.
An excellent resource from the great state of Ohio is Start Talking! Building a Drug-Free Future.
As polarizing as politics is on the national scene, I think the recent Presidential election had a big part to do with the drug epidemic and securing the country's borders. But regardless of personal politics, we can all come together on the need to reduce death rates from drug overdose.
Lead and Initiate Drug Conversations
The definition of bellwether means "one that leads or initiates." So be a bellwether with your family, friends and coworkers and initiate the following drug conversations:
Talk to your children and your inner circle long before they may be exposed to one bad decision or one peer.
Marijuana is a gateway drug.
Acute and chronic pain needs to be treated, but carefully and with close supervision.
There many non-opioid options.
There are educational curriculums available for teachers and parents.
Be Strong. Be Healthy. And Be in Charge!
-Holly L. Thacker MD
Holly L. Thacker, MD, FACP is nationally known for her leadership in women's health. She is the founder of the Cleveland Clinic Women's Health Fellowship and is currently the Professor and Director of the Center for Specialized Women's Health at Cleveland Clinic and Lerner College of Medicine at Case Western Reserve University. Her special interests are menopause and related medical problems including osteoporosis, hormone therapy, breast cancer risk assessment, menstrual disorders, female sexual dysfunction and interdisciplinary women's health. Dr. Thacker is the Executive Director of Speaking of Women's Health and the author of The Cleveland Clinic Guide to Menopause.
---
---
---