"Love Your Life"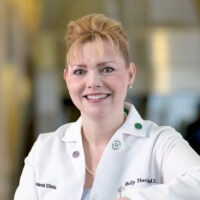 By: Holly L. Thacker, MD • Posted on December 16, 2014
---
The Speaking of Women's Health team wishes you a happy, healthy, New Year. As we have reflected on in the past, gratitude is one of the most important positive emotions to touch our soul and those around us. Gratitude can help us deal with life's setbacks and it is linked to a positive attitude. A positive attitude is warm and engaging and enlarges your circle of love, which in turn is good for your health!
Some women like to regularly journal to reflect on the positive events in their lives, to keep them on a healthy diet and fitness routine, to help encode positive memories, remember funny family stories and poignant experiences or record family information for young ones. Not everyone wants to keep a journal of one's life experiences and not everyone has the artistic talent or the time to do elaborate scrap booking.
So, one of the terrific women on our Speaking team, Kristin Swenson, a busy mom of four, shared a fun tip to begin the New Year. All you need is paper, pencil and a large empty jar. You need to simply write short notes throughout the year that commemorate events that happen in your life. For instance:
Write down what you most love about your life right now.
Describe a kind deed that you did for someone or a kind deed that someone did for you.
Write down the name of a new friend, a new place you traveled to, a favorite restaurant or the name of a song that brings a smile to your face.
Write down the date noting when you earned a promotion at work.
Write your feelings about major life changes such as welcoming a brand new baby into your family (just like Kristin did in 2014).
Jot down a few lines about how you reached a personal fitness or health goal that you have set.
You can place these short love notes into a "Love Your Life" jar and be sure to add any other special notes, cards and even crayon "drawings" that you receive from loved ones. At the end of the year, or during a time that you need a pick me up, simply open the jar and peruse the notes. So with that tip, let's kick off 2015 with the "Love Your Life" theme!
Be Strong. Be Healthy. Be in Charge!
-Holly L. Thacker, MD
Holly L. Thacker, MD, FACP is nationally known for her leadership in women's health. She is the founder of the Cleveland Clinic Women's Health Fellowship and is currently the Professor and Director of the Center for Specialized Women's Health at Cleveland Clinic and Lerner College of Medicine at Case Western Reserve University. Her special interests are menopause and related medical problems including osteoporosis, hormone therapy, breast cancer risk assessment, menstrual disorders, female sexual dysfunction and interdisciplinary women's health. Dr. Thacker is the Executive Director of Speaking of Women's Health and the author of The Cleveland Clinic Guide to Menopause.
---
---
---