Is There Connection Between Infertility Hormones and Breast Cancer?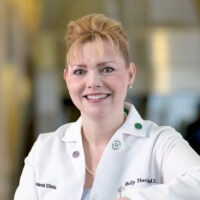 By: Holly L. Thacker, MD • Posted on October 22, 2011
---
Hormones Do Not Cause Breast Cancer
OK ladies, you can have a baby and you can undergo IVF if you need to. The myths and misunderstandings surrounding hormones abound! It's concerning how so many news outlets make untrue statements about birth control pills and fertility treatments causing breast cancer. As a women's health physician, I can tell you that breast cancer does not develop overnight or even in the spans of a few months. It takes years for abnormal cells to develop to the point where they can be clinically detected.
Birth control hormones are THE most studied pharmacologic therapy in history and the WORLD data show NO increase in breast cancer (and a reduced risk of ovarian cancer). I urge women to get reliable information about hormones, contraception, and fertility issues, including infertility treatments from true experts.
Dr. Tommaso Falcone, Chief of Staff & Chief Academic Officer at Cleveland Clinic London, is a true expert. He has helped thousands of women have families through his book, "The Cleveland Clinic Guide to Infertility." He co-wrote the book with his daughter, a nutrition expert. It has wonderful health, lifestyle and nutrition information for being strong, being healthy, and being in charge - our Speaking of Women's Health motto!
Be Strong, Be Healthy, Be in Charge!
- Holly L. Thacker, MD
Holly L. Thacker, MD, FACP is nationally known for her leadership in women's health. She is the founder of the Cleveland Clinic Women's Health Fellowship and is currently the Professor and Director of the Center for Specialized Women's Health at Cleveland Clinic and Lerner College of Medicine at Case Western Reserve University. Dr. Thacker is also the Executive Director of Speaking of Women's Health and the author of The Cleveland Clinic Guide to Menopause. Her special interests and areas of research including menopause and related medical problems including osteoporosis, hormone therapy, breast cancer risk assessment, menstrual disorders, female sexual dysfunction and interdisciplinary women's health.
---
---
Related Articles
---